One of my 2015 NLP Practitioner students wrote a poem about her experience - quite lovely! Thanks Chantal!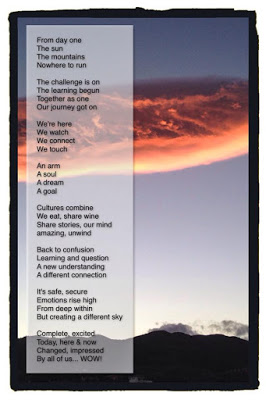 From day one 
The sun  
The mountains
Nowhere to run 
The challenge is on 
The learning begun 
Together as one  
Our journey got on 
We're here 
We watch 
We connect 
We touch 
An arm 
A soul
A dream 
A goal 
Cultures combine  
We eat, share wine 
Share stories, our mind 
amazing, unwind 
Back to confusion 
Learning and question 
A new understanding 
A different connection 
It's safe, secure  
Emotions rise high  
From deep within  
But creating a different sky 
Complete, excited
Today, here & now
Changed, impressed
By all of us... WOW!